Image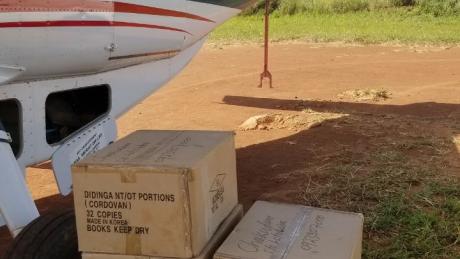 Reuben Vermuelen
SIL support school outreaches with Didinga bibles
On Monday 17 July, Pilot Reuben had some Bibles on his shuttle flight to Chukudum. The seven boxes, containing 224 New Testaments in the Didinga language, were flown for our partner SIL. SIL translates the Bible and helps communities engage with the Bible in South Sudan's indigenous languages.
When the Didinga New Testament was dedicated and distributed in 2018 it was the culmination of almost 40 years' work by translators. Today the scriptures are still in demand as SIL South Sudan's County Director Laura Robison explains, "Paul Lotuluba is a pastor and church planter who has been using the Didinga New Testament to plant new churches and encourage children living in Chukudum's schools to engage with God's Word. He often will write to us with a request to send more Bibles sent for this work, so we set up the flights to take them. Thank you to MAF for your help!"
Each batch you've flown has been taken to a different school to share. Pastor Paul also continues to meet with the different congregations, some of which are meeting under trees. I appreciate the discipleship and literacy training he gives along with it."
Pastor Paul is delighted to receive and distribute the New Testament within his Didinga community, "Praise God Laura, we started distributing the Bibles in the schools and teaching the children how to read as well as telling Bible stories orally. We are targeting 14 schools and will need at least 10 boxes for each school. The bibles received today are enough for just one school! May God bless you."
MAF is currently the only air operator to land in Chukudum, a stop on our regular Eastern Equatoria Shuttle. Insecurity in the area and dangerous wet season road conditions mean there are few safe alternatives.
Landing in Chukudum this morning, Pilot Reuben was happy to learn how the bibles will be used. "It's great to start the week unloading Bibles from the plane, knowing they will help school children access God's Word in their language at the same time they learn to read," he said.