Image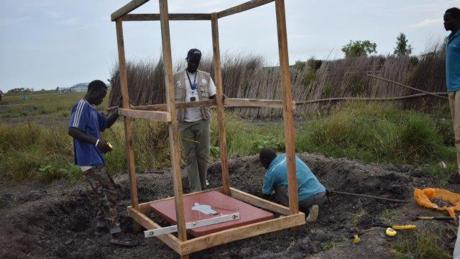 Photo: Samaritan's Purse
Throughout May and June, MAF was kept busy flying cargo to locations across South Sudan for Samaritans Purse.
MAF carried out almost 200 hours of flying for the Christian NGO which usually operates its own aircraft from Uganda, but was restricted due to Covid-19.
Samaritan's Purse' work includes water, sanitation and hygiene (WASH), food security and nutrition programmes targeting populations in six locations across South Sudan, including two in the greater Mayendit area of Unity State.
In May, there were an estimated 225,963 internally displaced people (IDPs) across Unity State according to the UN's information and advocacy body OCHA. 
Cargo for refugees
'My cargo that day was going to be used to build hand water pumps to give the community access to fresh water to use for washing and cleaning and drinking. It was one of a number of flights we had taking up building supplies including cement and gravel,'' pilot Alistair Youren explains.
Half of the flight legs were flown to just two locations: Thaker and Mayendit where Samaritans Purse are running several programmes, as Ncomulwazi Khumalo, Samaritan's Purse' Food Security & Livelihoods Manager for Unity State explains:
'In these places we are running mainly Water, Sanitation and Hygiene (WASH) and Food Security and Livelihoods (FSL) projects with a nutrition component. We have constructed 120 household shared latrines and 90 communal latrines, since August 2019 with most of these concentrated in the North Mayendit where we have a greater population.'
Clean water to combat Covid-19
'We have drilled 12 boreholes with construction of the associated drainage systems. The materials MAF have been moving from Juba to Thakkar are the ones being used to construct these boreholes and included timber, zinc sheets, iron rods and cement amongst other items.
'Urgency for borehole drilling was noted in some areas as the Covid-19 surfaced,' Ncomulwazi continues, explaining how the lack of access to clean water in the communities around Mayendit is hampering Samaritan's Purse' efforts to get the message out telling people how to protect themselves against Covid-19. 'In our campaigns promoting handwashing, it was a challenge for those communities to practice frequent handwashing as they had to fetch water from far away,' he says.
South Sudan has some the highest rates of child and infant mortality in the world with one in 10 under-fives dying before their fifth birthday, often from preventable illness caused by dirty water. 'Latrines have always been a matter of urgency in our programming due to diarrhoea related deaths in communities. However, behaviour change is a slow process. In that sense, the advent of Covid-19 cannot be linked to the urgency in latrine construction,' Ncomulwazi confirms.
Continuing to meet basic needs
With their busy flight schedules, MAF pilots like Alistair Youren know just how important flights are to the communities they serve. 'Humanitarian projects around Mayendit would quickly grind to a halt without air transport,' he says. 'Basically everything they need needs to be flown in most of the time - but in the wet season especially.'
Bikram Rai Samaritan's Purse International Relief's Senior Operations Manager is delighted that MAF and Samaritan's Purse could work together to meet critical needs in the communities which existed before Covid-19.
'It is all by our God's grace that he provided MAF to reach out to His people in this pandemic. These days,' he reflects, 'people are dying, not because of Coronavirus but because of having no food and supplies.
'With MAF flights, we could drop 21.5 metric tonnes of supplies to different places. This has been an incredible job that got done by Samaritan's Purse and MAF together. Thank you MAF team, you guys are amazing! God bless!'